Get 0% finance over 4 months
The perfect way to spread the cost of any purchases of £99 (inc vat) or more
How does PayPal credit work?
If you have found the tools you need to get the job done, but want to spread the cost then PayPal Credit is the perfect solution. Enjoy 0% interest for 4 months on any order of £99 (inc vat) or more.
The 0% is not just an introductory offer, you'll automatically benefit from 4 months 0% finance every time you spend £99 (inc vat) or more and choose PayPal Credit
Assumed credit limit
£1,200
Purchase rate
23,9% p.a.
(variable)
Representative
23,9% APR
(variable)
This example above illustrates the typical cost of using PayPal Credit as a standard funding method. If you take advantage of our offers and promotions, including our 0% for 4 months offer, the interest rate that applies will be lower in many circumstances.
On checkout, go to payment and select 'Pay with PayPal' button. You will then need to sign into your account to complete the payment.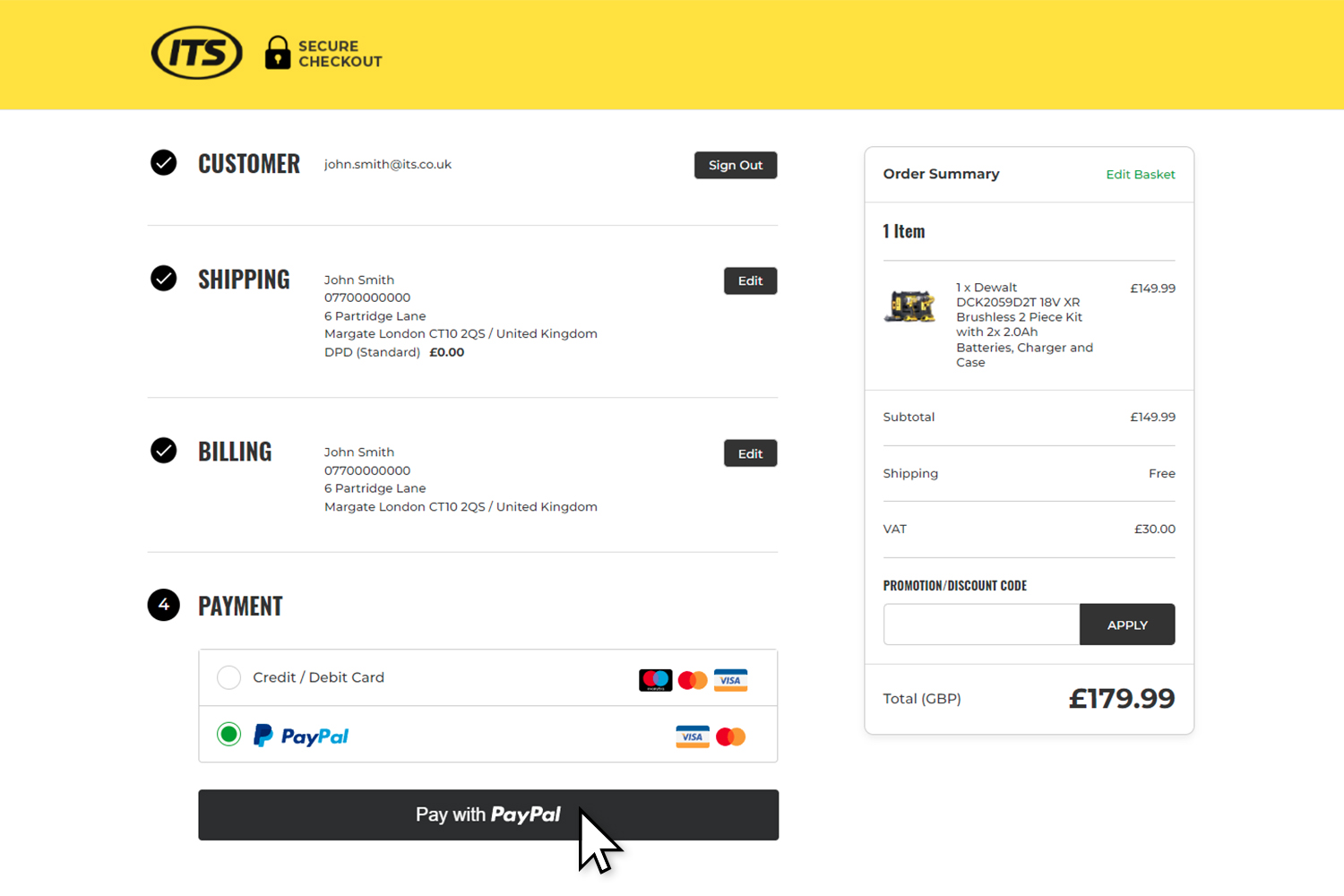 Once you have logged into your account choose 'PayPal Credit' from the payment options in the PayPal window.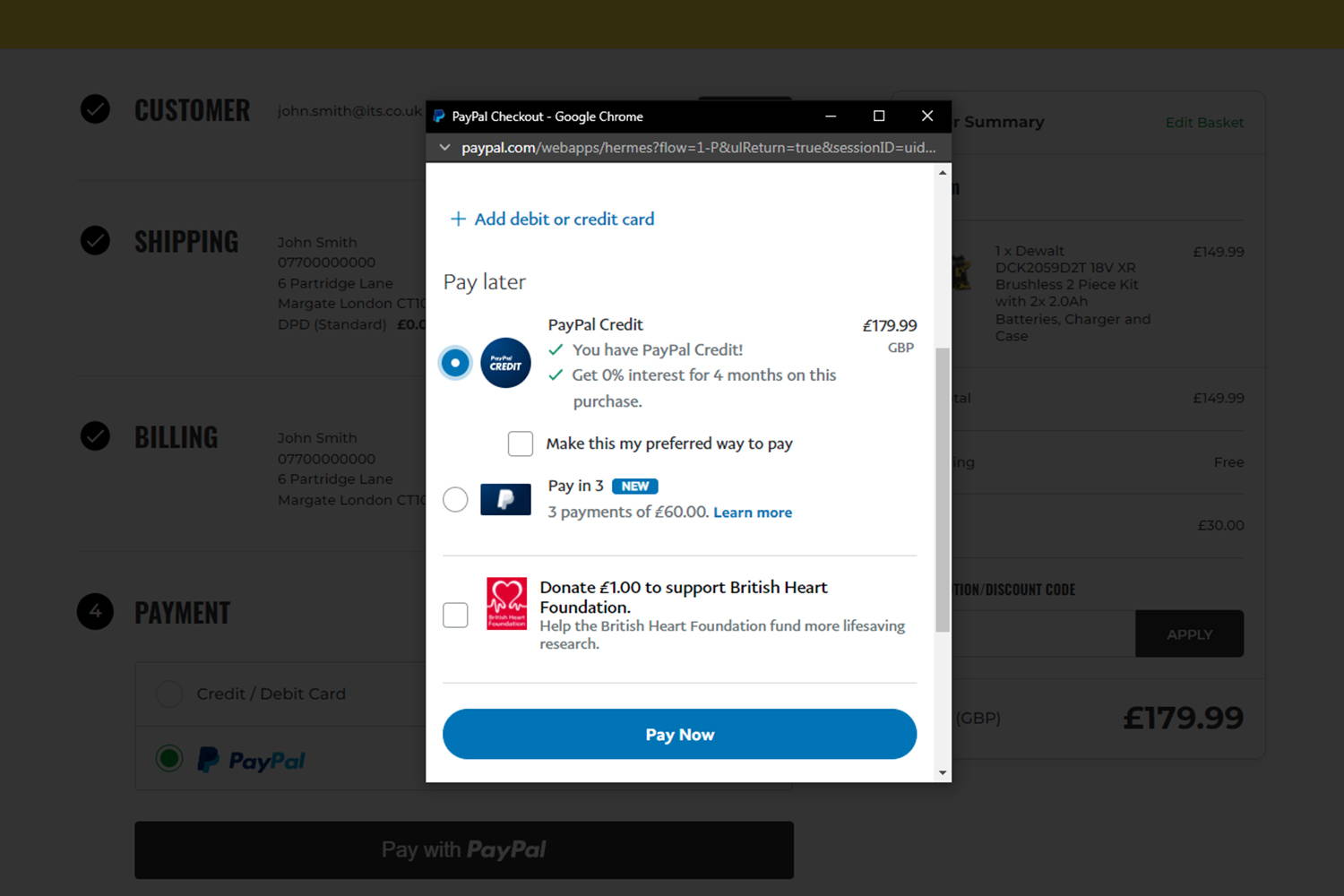 If you're new to PayPal Credit, you will be asked to complete a short application form to apply for PayPal credit.
PayPal Credit is like a credit card, without the plastic. It's a credit limit that sits alongside your PayPal account which you can use for your online purchases.
What credit offers are available?
A 0% interest offer you can use again and again: PayPal Credit's 0% interest offer is better than just an introductory offer. Every time you spend £99 or more, you will automatically get 0% interest for 4 months on that purchase.*
Plus, you can spread the cost of purchases under £99 at the standard variable rate of interest, currently 23.9% p.a.
*The minimum payment due still applies to 0% offer balances. Any remaining balance due after the 4-month promotional period or any transactions under £99 will be charged interest at 23.9% p.a. (variable). In order to maintain the 0% offer, you need to keep up monthly repayments and stay within your credit limit.
Applying for PayPal Credit is easy. Just click on the PayPal Credit button on our checkout page.
The application form takes minutes to complete. PayPal will then run a credit check and, if approved, you'll have a credit limit linked to your PayPal account as soon as you accept your Credit Agreement.
You can use the credit limit granted to pay for today's purchase and future purchases at thousands of online stores where PayPal is accepted, up to your credit limit.
Do I need to re-apply if I already have PayPal credit?
If you already have PayPal Credit you do not need to reapply, just select PayPal Credit as your payment option at checkout.
DO I need to have a paypal account?
Yes, however if you don't have a PayPal account, you can create one as part of the PayPal Credit application.
Signing up for a PayPal account is free and easy; all you need to do is provide your email address, create a password and accept PayPal's User Agreement.
What do I do if i am unsuccessful in applying for paypal credit?
If you have been declined for PayPal Credit, PayPal will send you more information about why your application was unsuccessful. You can still use PayPal to complete your purchase.
What happens if I want to return the item i bought using my paypal credit
Just return your purchase as normal and the money will be refunded to your PayPal Credit account.
What is the cost of PayPal Credit Outside of Promotional offers?
The Representative Example below shows the typical costs of using a PayPal Credit limit, without using promotional offers:
Representative Example:
Purchase rate 23.9% p.a. (variable)

Representative 23.9% APR (variable)

Assumed Credit Limit £1,200
You can make a one-off repayment from your bank account, debit card or PayPal balance at any time, either online or by calling PayPal Customer Service. Alternatively you can set up monthly Direct Debit payments from a bank account you've linked to your PayPal account. To set up Direct Debit payments, log in to your PayPal account and follow the instructions on the Make a Payment page.
When will my payment reflect on my PayPal Credit Balance?
Payments will reflect on your PayPal Credit account the same day you make them. It may take a few days for your available balance to update and for the payment to show on your bank statement.